Occasionally my invitation to the top table of world-changing summits and seminal ecological gatherings gets lost in the post. Do I crumble? Do I lay down and die? I do not. I simply drop myself into the frame after the event, in an act of retrospective photobombing. But as an ethical Zelig what would I wear?
Fashion is often cast as an irrelevance when it comes to global matters, written off as a preening, primping side show. It should be centre stage. This is an industry involving millions of people, from those growing and processing raw fibre to workers in the vast sewing factories and the employees and shoppers in millions of retail outlets worldwide. Whole ecosystems have been trashed by our appetite for certain clothing. An example of this is the Aral sea, the world's fourth largest lake, which has been reduced to a puddle by cotton irrigation. Fashion's carbon footprint is enormous, as is its social legacy: in Bangladesh the cut, make and trim garment factories of Dhaka have triggered the mass migration of young women from rural areas.
The recent #Tshirtgate taught us not to turn up for an ethical photo opp without sourcing the wardrobe very carefully. The Fawcett Society had joined with Whistles and Elle magazine to launch its women's equality and rights campaign with slogan T-shirts reading: "This is what a feminist looks like". It was cake on a plate to news organisations that wanted to take Harriet Harman down a peg. Although the charity had been assured that the now-famous T-shirts had been made in the UK, the order was seemingly switched to Compagnie Mauricienne de Textile (CMT) in Mauritius. The so-called "sweatshop conditions" of its manufacture – allegedly paying migrant workers 62p per hour and sleeping 16 to a dormitory – unfortunately represent the realities of the mainstream fashion industry supply chain, not a shocking anomaly.
As consumers we devolve responsibility for fair and just sourcing to brands and retailers. This faith is misplaced. A 2013 study of the main apparel-producing countries by the Center for American Progress found deflation in all but China in the decade up to 2011 and concluded that garment workers were unable to maintain a "decent life". The reality is that we wear clothes produced by exploited garment workers – predominantly young women – every minute of every day.
In 2011 I wrote To Die For, a book on the ethical fallout of today's fast-fashion retailers. It was clear that offshoring to the lowest wage economies was building to a catastrophe. On 23 April 2013 1,129 workers died at Rana Plaza in Bangladesh producing clothes for brands we all know and own. The brands said sorry, some paid compensation and extensive negotiations certified some dangerous buildings. But fast fashion still has a lot to prove – that it can produce cutting-edge fashion on this scale and look after people and the planet.
If you want your fashion pound to buy ethics alongside aesthetics, look outside the mainstream to the minnow-sized ethical fashion brands that have popped up over the past decade. These brands act as an alternative to the excesses of fast fashion, but even they would not claim that they have the whole thing sorted. The supply chain is convoluted, and few pieces are made by a single person in an atelier system. Even ethical brands are reliant on factory systems to keep prices down. As one designer put it: "As soon as you go into production it will break your heart." Whole runs can be produced with faults, orders can go missing, colours appear different. But these brands do not prioritise shovelling product out and maximising profit. They use certifications that mean something, play on fashion's potential to transform lives through real and rewarding jobs, and form long-lasting partnerships throughout the supply chain.
In the years since I began my own ethical fashion makeover (it's still a work in progress), there has been a definite shift towards glamour and gloss. We can attribute much of this to Stella McCartney, one of the few luxury designers working meaningfully on sustainability in her collections. She has undoubtedly made it cool. Also, Livia Firth's Green Carpet Challenge has kept the profile of sustainable style high. In September the two came together and launched a GCC collection for Stella McCartney from upcycled fabrics and eco lace that goes into store this month. Recently I sat in an auditorium full of design students tuned into sustainability, their attention commanded by the new £20,000 bursaries the Kering group has just launched with the Centre for Sustainable Fashion at London College of Fashion. The first recipients will win work placements with Stella McCartney and Alexander McQueen next year.
A well-known online fashion retailer recently advised its design team that the average dress (at a price point of £80+) would last just five weeks in the target customer's wardrobe. This is not what sustainability looks like. I take off my (Pachacuti) hat to the Keep Boutique. To buy for the long term you need to meet the garment, feel the weight of the fibre and try it on. We need to get more fashion mileage out of the pieces we choose.
Visiting the Arctic with David Cameron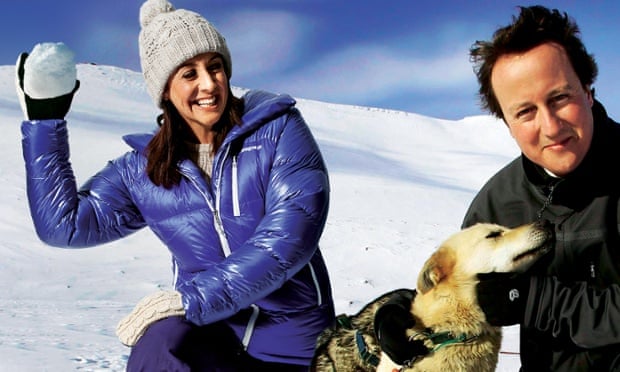 David Cameron visited the Arctic in 2006. But cynics say his environmental enthusiasm was just for show and has melted quicker than the glacier.
Lucy wears: Jacket Fitz Roy Down Parka, £400, filled with traceable ethical down and trousers Untracked Pants, £330, made in Vietnam, both patagonia.com/eu. Factories operate to a strong code of conduct, and the company is working towards a living-wage commitment. Jumper Mora Fisherman, £95, and Esam beanie £30, both finisterreuk.com. The Cornish surfwear brand specialises in sourcing ethical wool. Mittens Goodone, £35, thekeepboutique.com. Aran knit mittens upcycled from discarded jumpers. Boots Pippa Grey, £185, po-zu.com. Vegetable-tanned suede lined with pure wool fleece. Glueless construction in Portugal (with most shoe manufacturing, workers are exposed to solvents).
Addressing the United Nations with Leonardo DiCaprio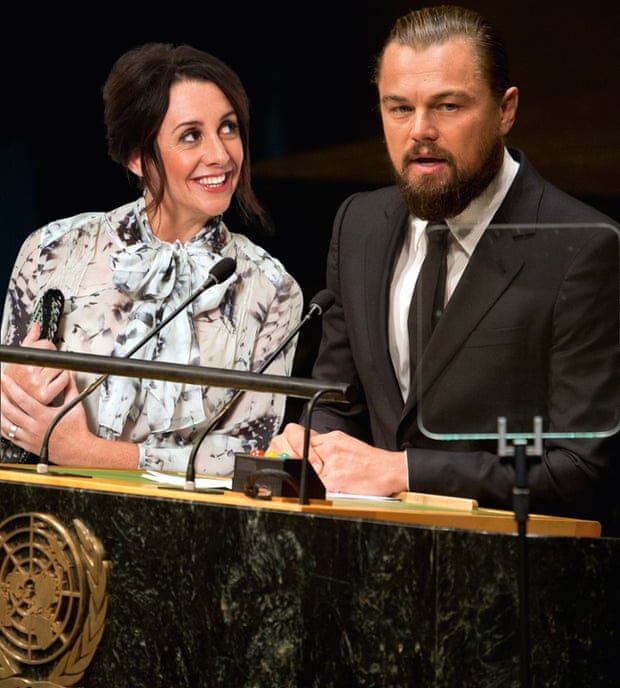 'I pretend for a living, but you do not,' Leonardo DiCaprio masterfully told world leaders (though China and India's heads of state just sent deputies) at the UN's climate-change summit in September. He is probably more knowledgeable about environmental issues than most, having vociferously campaigned for more than a decade. You can see him playing his ecological self in The 11th Hour. Post summit there were probably as many column inches on his man-bun hairstyle as his warnings on climate change – but Leo, I was listening to every word.
Lucy wears: Blouse Joy, £295, beulahlondon.com. Silk chiffon, printed in the UK, stitched in London. Beulah – the go-to non-high-street brand for the Duchess of Cambridge – is run by young Londoners Natasha Rufus Isaacs and Lavinia Brennan, with a transparent supply chain. They visit once a week to check on production, and the Beulah Trust produces pieces with the victims of trafficking in India through the Kolkata Freeset programme. Bag Amazona Silver, £145, bottletop.com. Made from 100% post-consumer upcycled aluminium ring pulls using a braiding technique for its recycled metals and Amazon rainforest-friendly leather. Bottletop controls and runs its own atelier on the outskirts of Salvador, northeast Brazil. The premise is to alleviate poverty in the community and provide training in new skills. Profits fund the Bottletop Foundation.
On the green carpet with Gisele Bündchen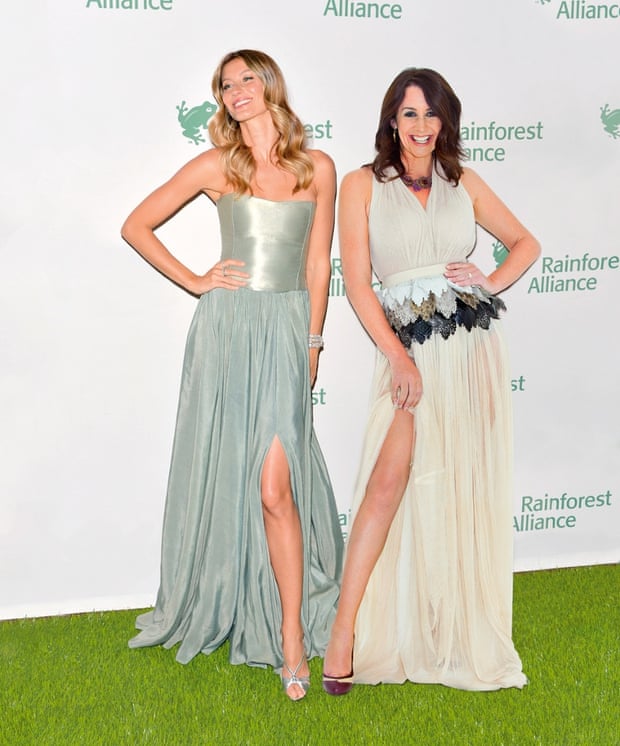 One of the world's most famous tree huggers, supermodel Gisele Bündchen has a forest named after her in Brazil. At the Rainforest Alliance Gala in May she walked the talk in an eco-friendly gown made from hemp silk by US designer Jeff Garner (prophetik.com) and dyed using his own indigo plants. Ordinarily I would be too intimidated to stand shoulder to shoulder with Gisele, but wearing my own eco couture fills me with the confidence of a 'modern warrior goddess' – what designer Ada Zanditon had in mind when she made it.
Lucy wears: Dress £3,000, Ariel, adazanditon.com. Made from naturally dyed French silk tulle and laser-cut Salmon and Wolffish leather (byproduct of the Icelandic fish industry). Embellished with lead-free Preciosa crystals. Shoes £145, Adriana, beyondskin.co.uk. Working closely with a Spanish factory the brand sources animal-free components and fabrics locally. Faux leathers are from polyurethane with lower impact than PVC, while faux-suede shoes are made from 100% recycled Dinamica, from recycled bottletops. Necklace £180, Aman Lilac, senhoa.org. Antique bronze fittings with crystals manufactured in Swarovski's high-standard factories. Senhoa pieces are handcrafted by young women vulnerable to sexual exploitation and survivors of trafficking in Cambodia and India. Projects provide access to fair wages, health services and education.
Visiting a world heritage site with Barack Obama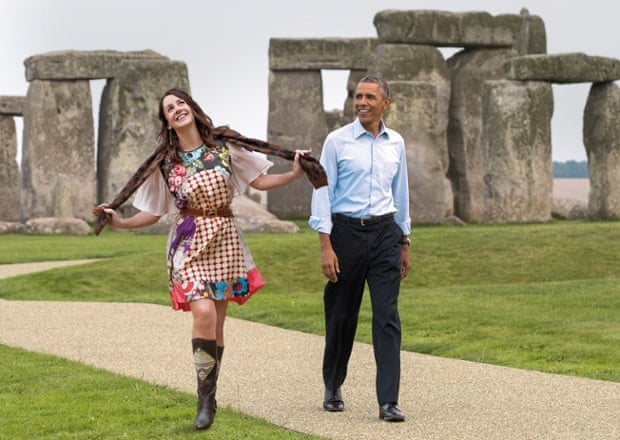 Barack Obama and me in happier times – for him, I mean. When he visited the UK in September, Obama made time for Stonehenge and soaked up its prehistoric positive vibes. They haven't helped him in the US midterms, but it was good to see him making the effort to visit a site of such eco-spiritual import. A few years ago the ethical fashion scene would have shunned any hippy references, understandably anxious to transition to a glossier 'fashion' look, but we think it is now mature and confident enough to poke a little fun at these countercultural origins.
Lucy wears: Dress Kaftan, £249, fromsomewhere.co.uk. Manufactured in Eden Studios, London, this kaftan is made from silk and cotton remnants including vintage fabrics, end-of-roll fabrics and offcuts. The brand was started by Orsola de Castro, aka the 'queen of upcycling'. Belt £190, tannerbates.co.uk. Oak-bark-dyed leather belt lined with English calfskin. Solid brass buckle hand-cast in Paris. Boots from £149, kiboots.com. Handmade leather Kilim boots. Cardigan Ava animal print, £140, peopletree.co.uk. This hand-knitted 100% wool cardigan is made by Fair Trade group Kumbeshwar Technical School (KTS), helping those labelled 'untouchable' in Nepal.
Going on a climate change march with Emma Thompson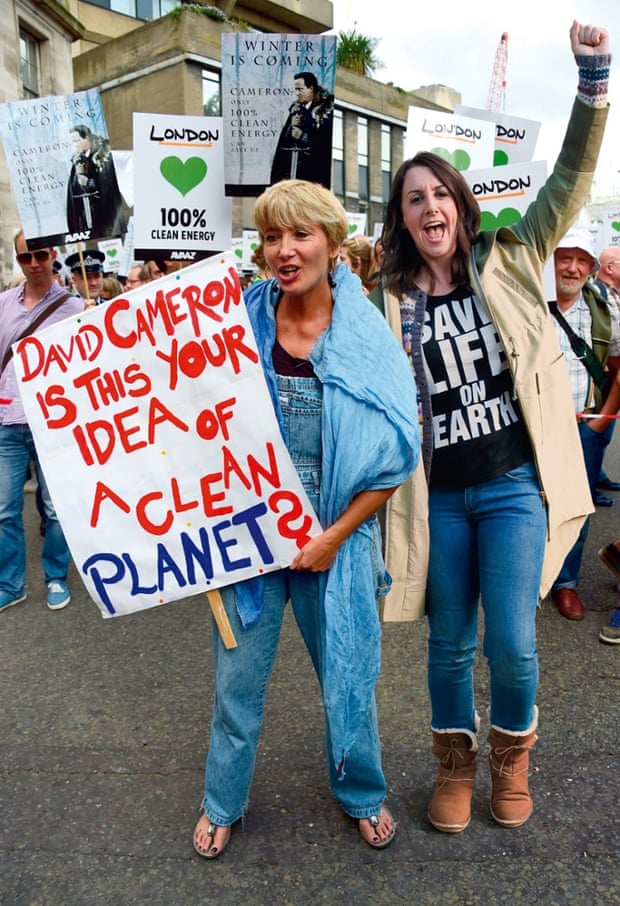 In September Emma Thompson joined tens of thousands in the People's Climate March in London, calling climate change deniers 'totally bonkers'. Her dungarees are a nod to past protests – CND and anti-apartheid. I worry about open-toed shoes on a demo though…
Lucy wears: Jeans Slim fit, £65, monkeegenes.com. From certified eucalyptus pulp sourced in Australaisa. Made in Turkey; working towards organic certification. Jacket parka, £410, Anna Gorke, gatherandsee.com. Organic US cotton with vegetable-tanned leather trims. Sewn in Germany by a seamstress named Birgitte. Cardigan £150, Fairisle, peopletree.co.uk. Non-mulesed New Zealand wool. Made by Fair Trade producer group KTS in Nepal. The first fashion brand to be certified Fair Trade throughout its supply chain. T-shirt £30, katharinehamnett.com. Organic cotton/Tencel. A proponent of the slogan tee, Hamnett has been tirelessly trying to rebuild an ethical supply chain. Produced by Continental Clothing from factories in India, Turkey and Bangladesh to International Labour Organization and Fair Wear Foundation guidelines. Printed in Bristol with low-impact water-based inks. Boots Piper S tan, £145, po-zu.com.
Haircare Joon Barrett for Aveda using Smooth-infusion style-prep smoother, Invati scalp revitaliser, Shampure shampoo and conditioner, containing naturally derived ingredients and Ayurvedic herbs sourced through harvesting co-operatives and community farms converting to organic Make-up Dina at Soho Management Fashion editor Jo Jones Fashion assistant Hannah Davidson Photographer Kevin Foord