Fake fur
The clothes on the catwalk are to be sold next spring and summer. The weather, as London fashion week opens, is glorious Indian summer sunshine. But fashion refuses to be tethered by such details. Fake fur coats are set to be a major designer and high street trend this season, and many showgoers braved the heat and sported their faux. The new fake furs are more cookie-monster than trophy wife: think crazy colours and boxy shapes.
The cult of the faux-fur Shrimps label was confirmed by the attendance of Alexa Chung, wearing white dungarees accessorised with a furry clutch at the tiny presentation. Next summer the Shrimps girl will be wearing a silk pyjama blouse, with a slim fur scarf and furry ankle strap sandals.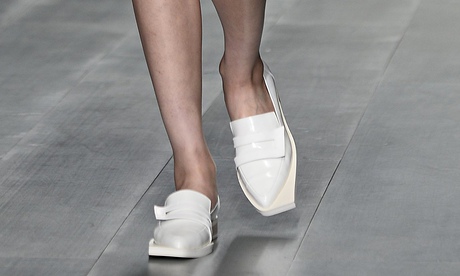 Flat shoes
Gone are the days of worrying about how many models will fall flat on their faces as they wobble like baby giraffes in six-inch sandals. Flat shoes rule on and off the catwalk. J. JS Lee showed flat, pointed white loafers; Eudon Choi featured flat Moroccan slippers with subtle stripes. As a result, the confident stride is the new catwalk sashay.
Meanwhile, front row shoes are stubbornly flat. Where the audience were once shod in spiky Louboutins and delicate Manolos, the practical shoe is now a major trend. Sandals, loafers, espadrilles and trainers – even, shock horror, the non-designer-limited-edition kind – are everywhere.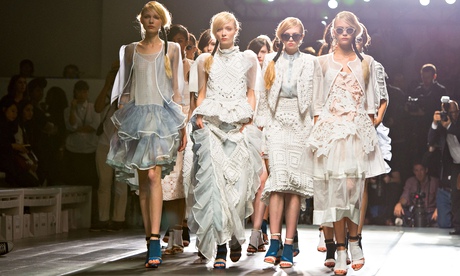 Models on the catwalk for Bora Aksu, showing the ruffles he based on Queen Victoria's paper dolls. Photograph: Dominic Lipinski/PA


Ruffles and pleats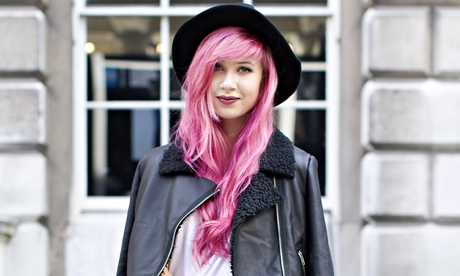 Blogger Amy Valentine sports the growing trend for pink hair. Photograph: Justin Tallis/PA


Think minimal, not girly. Bora Aksu decorated his collection with fluid, translucent frills, a detail which he based on Queen Victoria's collection of paper dolls. At Eudon Choi the ruffles were attached to striped oversized shirting and tailoring, which mixed linen and Liberty print. J. JS Lee went for a post-Celine pleat: think navy blue utilitarian silk pieces, with the addition of pleats to lift them out of the ordinary. Her pleats on a mesh-dress had a retro tennis-court feel. At Daks, billowing lilac chiffon trains and pleated lilac tops were worn with tailored bermuda shorts; at Trager Delaney, knife-pleated skirts were teamed with crew-neck sweaters and flat sandals.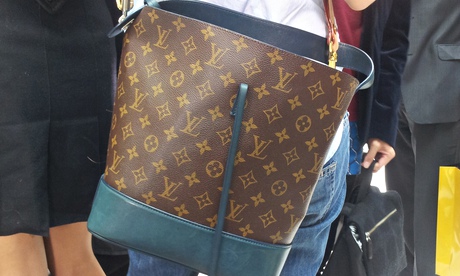 Pink hair
Pink hair as a statement of glamorous feminine rebellion hasn't been this big since Zandra Rhodes's heyday. Model Charlotte Free began an on-catwalk trend for pastel hair three years ago, a baton now picked up by the rainbow-locked Chloe Norgaard. Rihanna and Katy Perry have both been photographed with pink hair, and Rita Ora sports the trend in the advertising campaign for her recent fashion collaboration with Adidas. The showgoing crowd – always on the lookout for an accessory that will prove their individual style and get the streetstyle photographers snapping – have taken to the trend like ducks to water. Or should that be flamingos?
The bucket bag
The front row has a new breakout It bag. A bucket-shaped bag with a drawstring fastening is being spotted on anyone who's anyone. Vogue editor Sarah Harris has a Louis Vuitton one, while the New York fashion industry's obsession with Mansur Gavriel's simple, clean-luxe bucket bags has well and truly arrived, with several stylists and editors toting the label on day one of London fashion week. It can only be a matter of hours until the style is spotted on a London catwalk.