Having successfully infiltrated the fashion world, Victoria Beckham now occupies a very different position within the New York fashion week web of power and influence than she did in the days when she was marketing her own glamorous lifestyle in the form of figure-flattering date dresses.
Her brand now operates in the space between the avant-garde designers whose challenging ideas provide fashion's momentum and the commercial meat of selling those trends at mass level.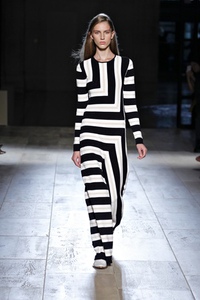 Photograph: Dan Lecca for the Guardian


This is a sweet spot to be in. The hardcore innovators will always be misunderstood and have fun poked at them, being too far ahead of the public in their thinking; at the other extreme, mass retail is all merciless competition and no glamour. Victoria Beckham is proving to be a dab hand at navigating the space in between, taking silhouettes and styles that are just beginning to come into fashion industry focus and distilling them into slick, glossy collections that make new ideas appealing and palatable. (Of course, having David Beckham in the front row doesn't hurt.)
Her latest collection, for spring/summer 2015, began with a series of three taupe linen dresses and coat-dresses, each falling to just below the knee, each with a wrapover or double breasted fastening, each worn with a half-belt, which narrowed the silhouette while keeping the line soft and fluid.
The midi skirt, the double-breasted jacket or coat, the lean-but-loose silhouette are all looks which were floating around the fashion zeitgeist before but which Beckham has – with this collection, and elements of the one before – taken and made her own. Hemlines stayed below the knee for 26 out of the 32 outfits in this collection, a confident statement of belief in the trend from a woman whose toned legs, in short dresses, once formed a key part of her personal brand. (For the record, backstage, the designer was in a simple sweater, not too snug, and a calf-length skirt.) The show was the first for which Beckham had designed shoes under her own brand. There was not a stiletto to be seen: instead, she embraced the modish trend for a heavy, less feminine shoe. Heels were bulky platforms, and most of the shoes were flat. A floral-embellished, pointy loafer-brogue hybrid was the standout.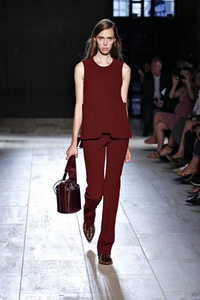 Photograph: Dan Lecca for the Guardian


"My starting point was the idea of a uniform," Beckham said after her show. Apron-styling, square patch pockets and soft military detailing lent a workwear edge to the trademark polished Beckham aesthetic. "I wanted something minimal and graphic with a slightly raw element. Over the seasons I've loosened up the fit of my clothes – but they still make you look long and lean, they're still wearable."
This autumn sees the opening of the first Victoria Beckham store, in Mayfair. As her husband and her 15-year-old son Brooklyn joined the designer backstage, Beckham joked that her store – like her shows – would be a family affair. "I'll be behind the till; David will be the doorman; Brooklyn will be my Saturday boy."